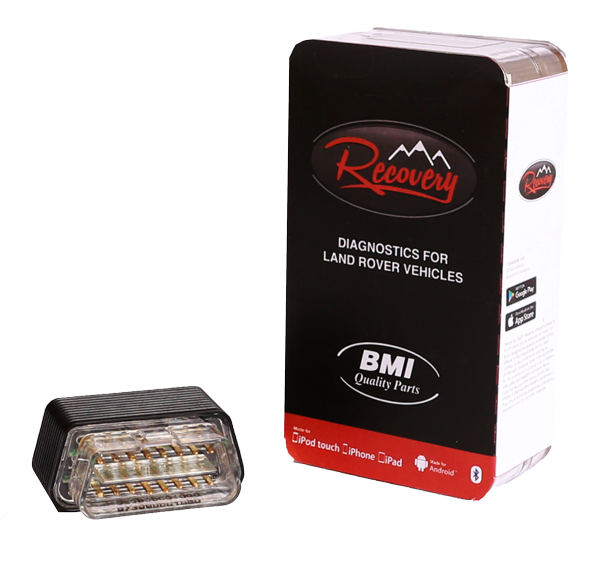 Ideal for the workshop & home user.
Key Features
Read & display live data
Mobile device based
Easy to use
Unlocked ready to cover an entire Land Rover model family
Upgrade software over app store
Quickly checks your Land Rover for faults
Small enough to store in glove box
Recovery Diagnostics Dongle
Recovery Diagnostics Dongle is the next generation diagnostic tool for Land Rover vehicles. Offering market leading diagnostics from a powerful and mobile design. Recovery Diagnostics Dongle provides full vehicle servicing and in depth diagnostic capability for all Land Rover models from 1990 through to current day. Ideal for the workshop and home user.
Live data can also be displayed using numerics and graphics making it easier to read time based events on your Land Rover. This small but powerful Dongle requires no batteries as it uses the vehicles power. For the enthusiast home user, using Recovery Diagnostics Dongle will mean no more trips to your local main dealer to clear any faults on your Land Rover.
Recovery Diagnostics Dongle is compatible with iOS and Android mobile devices with apps available for download from the Apple App Store and Android Play Store. As the software is App Store based and is loaded onto your mobile device, updates are as easy to do as any other mobile app, simply click the update icon. Recovery Diagnostics Dongle is manufactured by the company who supply Land Rover with their T4H Legacy diagnostic product.
What does Recovery Diagnostics Dongle do?
Read fault codes
Clear fault codes
Read & display live data
Test actuators
Special functions - see coverage chart
Programming - such as alarm settings, key fobs etc. on selected models
Service reset
What do you get with Recovery Diagnostics Dongle?
Recovery Diagnostics Dongle Dongle
Quick start guide
Protective carry case
What Land Rover models does Recovery Diagnostics Dongle cover?
It is important to note that if you purchase an unlock code for a Discovery this code will cover all the Discovery family - from Discovery 1 through to Discovery 4. This feature is hugely beneficial if, at a later date, you upgrade your vehicle within the same Land Rover family you don't have to purchase another unlock code.
Defender Family
Discovery Family
Discovery 1
Discovery 2
Discovery 3
Discovery 4
Freelander Family
Freelander 1
Freelander 2
Discovery Sport Family
>
Discovery Sport
Range Rover Family
> Range Rover Classic
> Range Rover P38
> Range Rover L322
> Range Rover L405
Range Rover Evoque Family
> Range Rover Evoque
Range Rover Sport Family
> Range Rover Sport - Mk1
> Range Rover Sport - Mk2
Supported Languages
> English
> French
> Spanish
> Portuguese
> German
> Italian
> Dutch
The Small Print
'Made for iPod®', 'Made for iPhone®' &'Made for iPad®' mean that an electronic accessory has been designed to connect specifically to iPod, iPhone or iPad respectively and has been certified by the developer to meet Apple performance standards. Apple is not responsible for the operation of this device or its compliance with safety and regulatory standards. Please note that the use of this accessory with iPod, iPhone or iPad may affect wireless performance. iPod, iPhone & iPad are trademarks of Apple Inc., registered in the U.S. and other countries.